Trebor Healey is the recipient of a Lambda Literary award, two Publishing Triangle awards and a Violet Quill award. He is the author of three novels, A Horse Named Sorrow, Faun and Through It Came Bright Colors; a book of poetry, Sweet Son of Pan; and two previous collections of stories, A Perfect Scar and Eros & Dust. He co-edited (with Marci Blackman) Beyond Definition: New Writing from Gay and Lesbian San Francisco and co-edited (with Amie M. Evans) Queer & Catholic.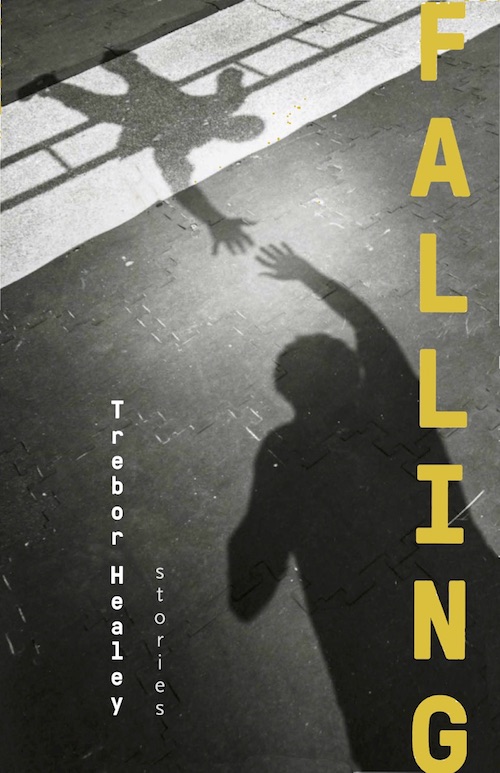 Just Released, September 2019
Falling
In award-winning author Trebor Healey's newest collection, Falling, characters lose their way, figuratively and literally, and confront the profound displacement of modern life.
These are stories of hard-won redemption and transformation — a widower who finds meaning adopting refugee children, a painter who reconnects with his son after losing everything, a nun victimized and haunted by state terror, and a peripatetic gay man in utter despair and fatigue who finally bonds with his dying father.
In Healey's skilled hands, there is a flicker of hope in the hopeless, a way forward in the pathless wood, and a bridge — though rickety and swaying — across even the most harrowing chasm.
Together, these vignettes cover a dizzying breadth of the human experience. From a contemporary reimagination of the life of Evita Perón with a gay man in the starring role to the story of an abandoned building full of ghosts in the center of Mexico City, this collection suggests other ways of seeing in a world overburdened by history.
---
Praise for Falling
"Trebor Healey has shown us in these utterly original stories how the English-speaking part of the Americas confronts the Spanish-speaking part. In The Orchid, he has written a masterful exploration of the inner politics of Argentina. This is a wise, brilliant story that will be read for many years to come."

— Edmund White, author of A Boy's Own Story

"In this beautifully drawn collection, Trebor Healey takes the reader into vividly imagined worlds, each story absorbing in its details and spiraling, surprising complexities. In the stories set in Mexico, he paints a dreamscape tinted with magic realism, never losing sight of the very real humanity binding us all."

— Sarah Van Arsdale, author of In Case of Emergency, Break Glass
---
Books by Trebor Healey
"A Horse Named Sorrow is simply, inexorably beautiful. It is sexy, cinematic, the prose itself an absolute joy to read, and often funny as holy hell. It is, at the same time, one of the saddest works I have ever read: piercing, poignant, and memorable."
— Maureen Seaton, author of Furious Cooking

"This magical tale about a boy unexpectedly turning into a faun is funny, poignant and erotic. Faun offers a wise meditation on our relationship to the earth as well as each other—and to our sexuality, which is the 'greenest' part of us all."
— Mark Thompson, author of the Gay Spirit, Gay Soul, Gay Body trilogy



On the Road and Giovanni's Room, which will echo in the heart of his readers like the fading encore of the perfect song."


— Lambda Book Report



"Shows us men and women whose lives have been, or are about to be, forever altered by love. . . . SHARP, EMPATHIC, AND UNFORGETTABLE."
— Bernard Cooper, author of The Bill from My Father

"Trebor Healey's writing is suffused with the purest emotion, the bravest, funniest tone, and the perfect balance of poetics, daring, and charm."
— Joy Nicholson, author of Tribes of Palos Verdes

---
Radio, Television & Print Interviews